Profile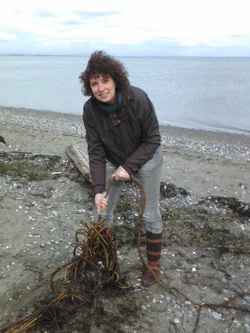 "I see myself as a "primitive potter." My soul is constantly drawn to organic, unique and natural substances. Over the years, I have experimented with wheel-thrown and refine clay pieces, only to be uninspired with the results. I gravitate back to what speaks to me – hand built, rugged pieces, decorated with oxides or by Raku firing, and finished with kelp woven edges and beach-combed treasures. Each piece is a unique celebration of the natural world around us." Nancy Cramer
Nancy grew up in an artistic family; her father was a professional artist, her mother was a painter and her sister sculpts fantasy figures. As a child, Nancy spent endless hours creating gifts and "making art projects."
After graduating with a Bachelor of Science degree from Wilfrid Laurier University, she spent a year backpacking around Europe learning as much about herself as the world around her. Upon her return, she headed west and worked at the Emily Carr College of Art until she started a family. A few years later, her passion for tactile arts led her to the Clay and Textile program at Capilano College where she studied weaving, clay, and textile surface design. She has always been drawn to primitive societies and their rustic art forms. Her present work has evolved from her love of weaving and clay, nature and spirituality. Her goal is to express her inner soul through the messages found in her art. Nancy's work is in private collections throughout Canada, United States, Germany and The Netherlands.
PUBLICATIONS
RAKU 500 – Bold Inspirations of a Dynamic Ceramics Technique
, Edited by Ray Hemachandra, Lark Books, Sterling Publishing Co. New York, March 2011.
Nancy Cramer's Tidelines - Quintessential Westcoast Pottery
, by Sonnet Force, Arts Alive, Vol 9 No 6, Published by the Arts and Culture Commission of North Vancouver, December 2004.
Tri-City News - August 24, 2015
EXHIBITIONS
September - November 2017 "Art 4 Life," Port Moody Arts Centre, Port Moody, BC
August 2016 - November 2017 "Arts in View," Blue Shore Financial, North Vancouver, West Vancouver, Squamish and Whistler branches
May 2016

"

Art in the Garden

," North Vancouver Arts Community Arts Council, West Vancouver

​

January - February 2016 "Mystification and Reality" Art in the Community, Ron Andrews Rec Centre, North Vancouver, BC
November - December 2015 "Winter Gift Gallery" Seymour Art Gallery, North Vancouver, BC
November - December 2015 "Winter Treasures" Port Moody Arts Centre, Port Moody, BC
October - November 2015 "Art Party" Seymour Art Gallery, North Vancouver, BC
August-September 2015 "Messengers" Port Moody Arts Centre, Port Moody, BC
February-March 2015 "Art in the Community" District Foyer Gallery, North Vancouver, BC
December 2014 "Winter Gift Gallery" Seymour Art Gallery, North Vancouver, BC
May-June 2014 "Art in the Garden" weekend, North Vancouver Arts Community Arts Council, North Vancouver
December 2012 "Treasure Room" Group Art Show, Arts Council of New Westminster, Queens Park, New Westminster, BC
January 2012 "Discovery 2012" Group Art Show, Seymour Art Gallery, North Vancouver, BC
December 2011 "Treasure Room" Group Art Show, Arts Council of New Westminster, Queens Park, New Westminster, BC
September 2011 "The Way Through" Wild Women Collective, Seymour Art Gallery, North Vancouver, BC
December 2010 "Treasure Room" Group Art Show, Arts Council of New Westminster, Queens Park, New Westminster, BC
November 2010 "Four Inner Lives" Group Art Show, Arts Council of New Westminster, Queens Park, New Westminster, BC
June 2009 - September 2009 "Arts in View" One Person Art Show - North Shore Credit Union, Parkgate Branch
June 2009 - Seymour Arts Festival "Wild Women" - Seymour Art Gallery, North Vancouver, BC
March 2009 - June 2009 "Arts in View" One Person Art Show - North Shore Credit Union, Squamish Branch
November - December 2008 "Christmas Showcase 2008" Group Art Show - Seymour Art Gallery, North Vancouver, BC
February - March 2008 "After School Special" Group Art Show - Seymour Art Gallery, North Vancouver, BC
January - February 2008 "Discovery 2008" Group Art Show - Seymour Art Gallery, North Vancouver, BC
Dec 2007 - Mar 2008 "Arts in View" One Person Art Show - North Shore Credit Union, Marine Drive Branch, North Vancouver
September - December 2007 "Arts in View" One Person Art Show - North Shore Credit Union, Parkgate Branch, North Vancouver, BC
January - February 2006 "Discovery 2006" Group Art Show - Seymour Art Gallery, North Vancouver, BC
February 1999 Group Art Show - Artist Tree Studio, North Vancouver, BC
December 1995 "Cornucopia" Group Art Show, Seymour Art Gallery Group, North Vancouver, BC
November 1994 Capilano College Group Art Show, North Vancouver, BC
LINKS:
---